HorseFleet Academy Newsletter
October 2006
September 23rd Black Dog Farm held a Schooling Dressage Show hosted by Lakeland Dressage Association.  Romulan Warbird and I showed in the Intro Test A Novice and Intro Test B Novice class.  This was my first Dressage show in over 20 years.  My first test (Intro Test A Novice) was at 1:48 pm and we brought home 1st place.  Our second test (Intro Test B Novice) was at 4:42 pm and we brought home 5th place.  Romi and I were both tired and hot by the second test but we gave it everything we had and the judge liked us.  We did get over the 55% scoring on both classes, so if I decide to show again, I can still do Intro Test A and Intro Test B, but not the Novice class.
I would like to give a very special thanks to Suzanne for all her hard work before, during and after the show.  She spent hours braiding Romi's mane to make him look like a high level Dressage horse and although the braids didn't hold, it was fun trying it.  Also Suzanne was my groom and caller at the show and she did a "Spectacular" job!  Thank you for also cleaning out the trailer back at the farm, you do that the best! 
I also want to thank:
Claudia Harris – for taking the time to school us before our first class.  That was very kind since she had 3 students that she brought with her to take time out to help me.
Leslie – for getting me the food I never ate.
Curtis – for all the beautiful pictures and for understanding me.  That takes a lot on show days.  Thanks honey!
Megan and Lauren – for cooling Romi down at the show.
Megan – for helping me back at the barn after the show.  Megan unloaded the trailer and helped clean stalls.
And to Shelley, Ashley, Lori, Beth, Rose, Avery and Steve for showing me your support and coming out to spend the day with me.  And I don't want to forget Wednesday (the dog) she was a delight.
Trail Riding season is coming soon.  This year, in order for your cadet to go riding, I will require at least 6 months of riding with me and my horses at the farm before taking them out on the trails.  Cost is same as last year $40.
November 4th is the "Just A Bit" show at Lake Park.  Lauren Shanks will be taking Neelix of Rinax to "their" first show.  Lauren has been working very hard and has proven herself to be quite the equestrian.  Please show her as much support as I was shown and mark this date on your calendar.
HAPPY BIRTHDAY to Katie Kough!
Ms. Kat
FYI: Our new students are: Megan, Cloey and Shannon.  Welcome to HorseFleet Academy!
<![if !vml]>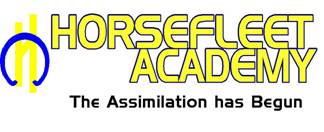 <![endif]>